---
WE HAVE NOW OPENED A MONDAY NIGHT CANSKATE!!!
---
It's national coaching week and we want to thank Heather Ansley for her years of dedication to the Kamloops Skating Club. She is celebrating 35 years of coaching this year. She is our fearless leader, who coaches with passion, kindness and empathy.
Star Skater Victoria Warner has nick named Heather "Our Edge Queen" and Annabelle Garrioch Star 1 skater (6) says, "she loves skating with Heather, and loves that Heather shows her so many cool moves, and is so kind." We would like to thank Heather for unfailing dedication to our club!
We as well would like to thank Dennis Bryan for his commitment to our club. He comes from a background skating with Disney on ice and many more prestigeous accomplishments. He is known by our skaters for making them work hard on the ice, and he is also known for his excellent coaching in stroking. Our club appreciates his wonderful choreography skills too. Thank you for from the club Dennis!
---
Fall 10 week programs begin the week of September 26th
JuniorSTAR and STARSkate ice begins September 12th
---
Thanks for stopping by our club page!
Please browse our programs page which has information about the fun and exciting skating programs our club offers. 
---
Kamloops Skating Club Fundraiser- Mabel's Labels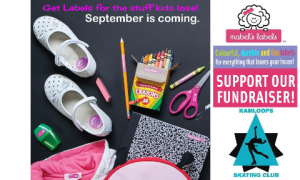 CLICK HERE TO BUY YOUR LABELS AND SUPPORT OUR CLUB
---
2016 In- Person Registration Dates!!!
September 1, 6, 7, 13, 23
@ McArthur Island Sport and Event Centre Arena Upstairs 
6:00-7:00 PM
---